Announcing our Google Sheets Integration
Anthony Penner on Dec 2 2022
Google Sheets is a cloud-based spreadsheet application offered by Google as part of its Google Drive suite of online applications. It allows users to store and organize data, create formulas and functions, use pivot tables, and create charts, graphs, and other visualizations to represent data. It is a popular alternative to Microsoft Excel and other spreadsheet programs due to its flexibility, convenience, and ease of use.


How to connect your form to Google Sheets
To get started, this integration will require:
A Basin: Standard subscription.
An Existing Google account.
An existing Google sheet. If the Sheet you want to write to is contained within another Google account, then you will need edit access.
First select your form, then navigate to
Integrations -> Google Sheets.


Click sign on with Google.
Next, choose your Google Account.
Make sure to check the two boxes that allow our Basin integration to access your Sheets.
Now you can select the Sheet you would like to integrate with and map the fields from past submissions including some metadata fields into the position would like them appended to your Google Sheet. In order for some fields to appear here already, you should have created a few submissions already.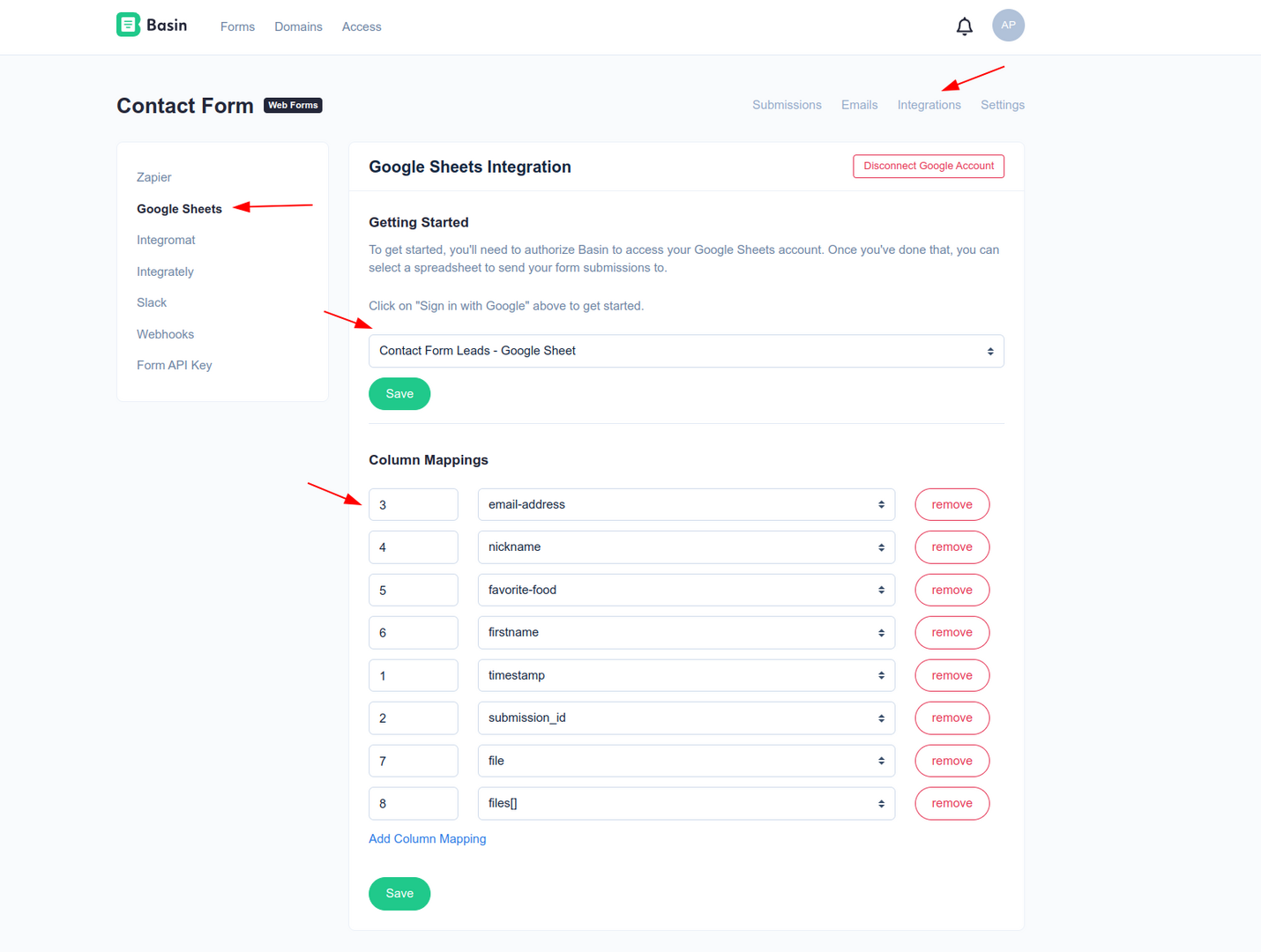 If everything is configured correctly you will see data being appended to your Sheet within a few seconds of receiving each submission.
In the example above you can see I've included some of the metadata fields provided by Basin like timestamp, submission ID, and even links to files uploaded using a multi-select file upload button.
Why use Google Sheets?
Integrating forms with Google Sheets is a great way to create automated workflows and make sure that data collected from forms is automatically stored in a Google Sheet for easy organization and analysis. By automatically storing collected data in a Google Sheet, you can avoid the hassle of manually entering data and ensure accuracy and consistency. Additionally, you can analyze the data quickly and easily, as well as use advanced formulas and manipulate it in various ways. You also have the ability to create charts, graphs, and other visualizations to quickly comprehend the data. Plus, you can share the data with your team without having to worry about security or access issues. Ultimately, integrating your form with Google Sheets makes it easier to collect, store, and analyze data. Google Sheets could also be used to aggregate data from many forms into one feed.



Why is a native integration with Google Sheets better than using Zapier/Make/Integromat?
A native integration with Google Sheets is better than using Zapier because it provides a secure, reliable connection and more options for customizability. With native integrations, data is sent directly between two services without having to pass through a third-party, meaning less potential for data loss and unexpected bugs. Additionally, native integrations often provide more flexibility when it comes to customizing the settings of the integration, making it easier to configure it to work with the existing settings and workflows between the systems. Finally, native integrations can also be more cost-effective for small businesses, as Zapier pricing is often charged per task, whereas native integrations can often be charged by the service on a subscription basis.