Help us grow
We like being a super cost effective form backend solution, and you can help us spread the word so we can keep it that way.
Basin has enjoyed steady growth, thanks to the support of people like you. Most of our customer base has heard about us organically through search and word of mouth. Major companies like Zapier and Webflow have sent a lot of traffic our way through their integration pages, and Chris Coyer from Codepen has mentioned us in multiple projects and presentations. Since we're not spending money on major marketing campaigns, we can afford to keep the cost of our service down and pass along those savings to you.
We want it to stay that way, so if you're willing to help spread the word and help others power their web forms for less, we'd be greatful. Here's how you can help:
Write a review or product feature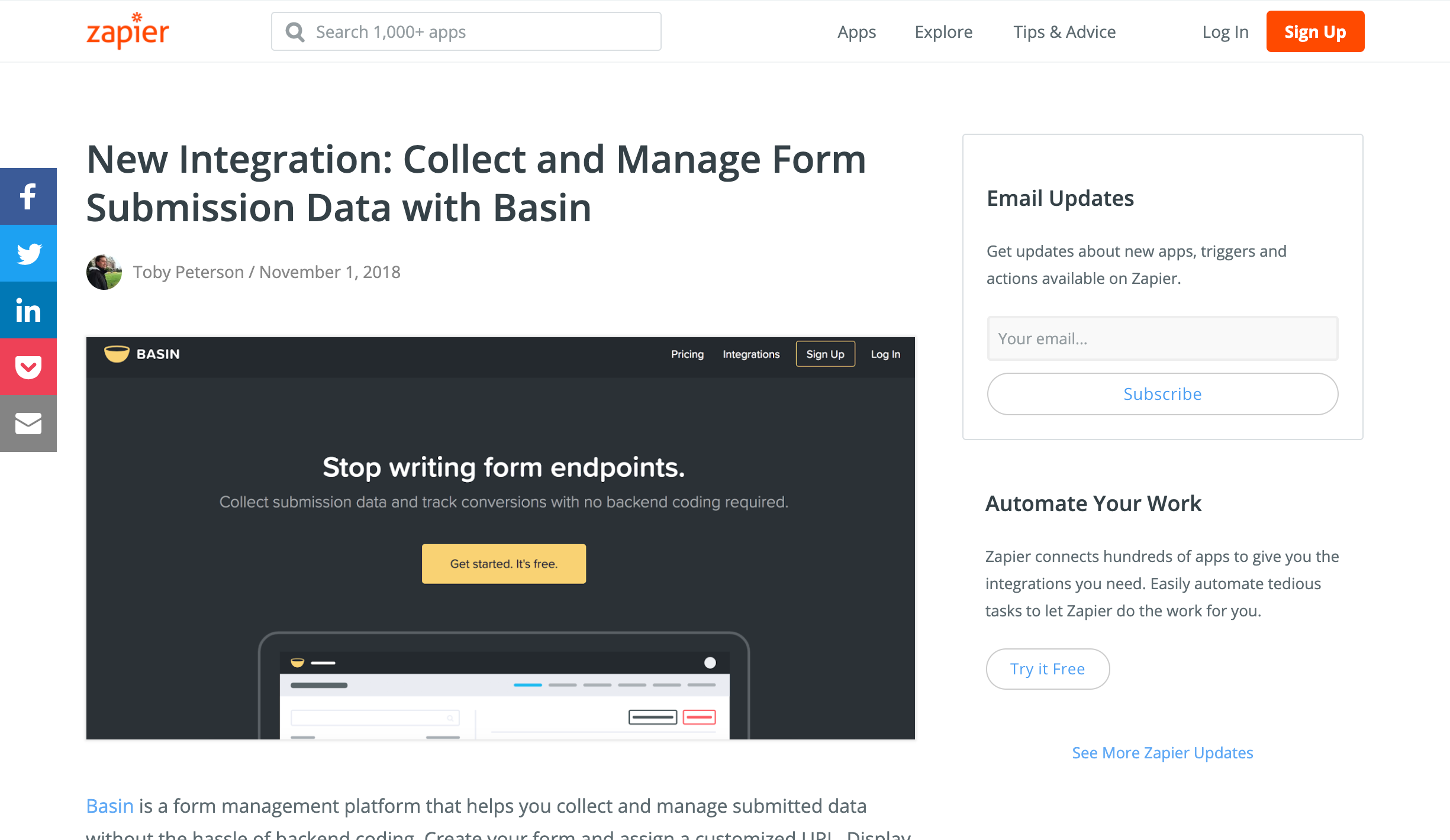 (pay no attention to the outdated branding)
It's important for people considering a form backend solution to know how Basin compares to other products in the space. We're proud of our intuitive design, flexible feature set, and the personal support we provide our customers. If you're a fan of Basin, you can earn discounts for our service by publishing the following types of reviews or features:
Directory review - 50% off for 3 months
Personal blog review - 50% off for 6 months
Corporate blog feature - 50% off for 12 months
Once your review is published, simply email us directly at support@usebasin.com with a link to your review and we'll be happy to apply the credit to your account. Credits can be used towards any of our paid plans.
Follow us on social media
If you're not already doing so, you can connect with us on Twitter . It's usually the first channel we use to share product updates, and you can also use it to get in touch with us directly if you need any technical help.
Share your feedback with us
We're still a young product, and we know there's a lot more we can be doing to make your form management and data collection efforts easier. Feedback is always welcome — good or bad! You can reach us any time by emailing us directly at support@usebasin.com. We respond to every email, so you can be sure that your input will be noted and considered.
Thanks for all the help and support!